The Encyclopedia of Spices and Herbs: An Essential Guide to the Flavors of the World (Hardcover)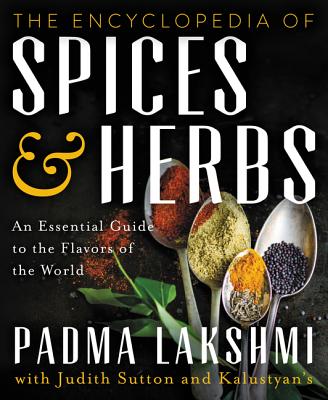 Description
---
From the Emmy-nominated host of the award-winning Top Chef, an A-to-Z compendium of spices, herbs, salts, peppers, and blends, with beautiful photography and a wealth of explanation, history, and cooking advice.
"A beautiful book by Padma Lakshmi featuring an extensive catalogue and helpful recommendations on how best to use these ingredients to create full-flavored dishes. A great resource for any chef or home cook." -- Eric Ripert
Award-winning cookbook author and television host Padma Lakshmi, inspired by her life of traveling across the globe, brings together the world's spices and herbs in a vibrant, comprehensive alphabetical guide. This definitive culinary reference book is illustrated with rich color photographs that capture the essence of a diverse range of spices and their authentic flavors. The Encyclopedia of Spices and Herbs includes complete descriptions, histories, and cooking suggestions for ingredients from basic herbs to the most exotic seeds and chilies, as well as information on toasting spices, making teas, and infusing various oils and vinegars. And no other market epitomizes Padma's love for spices and global cuisine than where she spent her childhood—lingering in the aisles of the iconic gourmet food store Kalustyan's, in New York City.
Perfect for the holiday season and essential to any well-stocked kitchen or cooking enthusiast, The Encyclopedia of Spices and Herbs is an invaluable resource as well as a stunning and adventurous tour of some of the most wondrous and majestic flavors on earth.
About the Author
---
Padma Lakshmi is the Emmy-nominated host of the highly rated and critically acclaimed, Emmy-winning Bravo seriesTop Chef, and the author of three cookbooks and food titles: the award-winning Easy Exotic; Tangy, Tart, Hot & Sweet; and the Enclyclopedia of Spices and Herbs. In addition to her culinary achievements, Lakshmi has contributed to such magazines as Vogue, Gourmet, and Harper's Bazaar (UK and US), and penned a syndicated column on fashion and food for the New York Times. Her television-hosting credits include Planet Food and Padma's Passport, as well as other programs in the United States and abroad. A global style icon and the first internationally successful Indian supermodel, Lakshmi also helms companies of her own such as the Padma Collection and Easy Exotic.
Lakshmi is a cofounder of the Endometriosis Foundation of America. Since 2009, the organization has advocated for early diagnosis, promoted research, and raised awareness in the medical community and the greater public about this devastating chronic disease which affects over 190 million women worldwide.
She lives in New York City with her daughter.
Praise For…
---
"From advieh to zedoary, Lakshmi stirs your sense of wanderlust...Along the way, she acts as both a tour guide and a fellow traveler on a journey through an abundant world of herbs and spices. It's a trip as educational as it is exciting." — Thomas Keller
"'This book takes you on an entirely new journey, which begins at advieh and ends at zedoary. Ranging far beyond the usual repertoire of familiar names, this is the perfect book for the curious cook." — Ruth Reichl
"A beautiful book by Padma Lakshmi featuring an extensive catalogue and helpful recommendations on how best to use these ingredients to create full-flavored dishes. A great resource for any chef or home cook." — Eric Ripert