The Dangerous Book for Boys (Hardcover)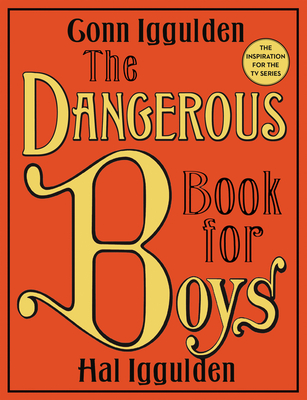 $22.99

NOT on our shelves - Usually Ships in 1-5 Days
Description
---
The bestselling book—more than 1.5 million copies sold—for every boy from eight to eighty, covering essential boyhood skills such as building tree houses*, learning how to fish, finding true north, and even answering the age old question of what the big deal with girls is—now a Prime Original Series created by Bryan Cranston (Breaking Bad) and Greg Mottola (Superbad).
In this digital age, there is still a place for knots, skimming stones and stories of incredible courage. This book recaptures Sunday afternoons, stimulates curiosity, and makes for great father-son activities. The brothers Conn and Hal have put together a wonderful collection of all things that make being young or young at heart fun—building go-carts and electromagnets, identifying insects and spiders, and flying the world's best paper airplanes.
Skills covered include:
The Greatest Paper Airplane in the World
The Seven Wonders of the Ancient World
The Five Knots Every Boy Should Know
Stickball
Slingshots
Fossils
Building a Treehouse*
Making a Bow and Arrow
Fishing (revised with US Fish)
Timers and Tripwires
Baseball's "Most Valuable Players"
Famous Battles-Including Lexington and Concord, The Alamo, and Gettysburg
Spies-Codes and Ciphers
Making a Go-Cart
Navajo Code Talkers' Dictionary
Girls
Cloud Formations
The States of the U.S.
Mountains of the U.S.
Navigation
The Declaration of Independence
Skimming Stones
Making a Periscope
The Ten Commandments
Common US Trees
Timeline of American History
*For more information on building treehouses, visit www.treehouse-books.com and www.stilesdesigns.com or see "Treehouses You Can Actually Build" by David Stiles.
About the Author
---
Born in London, Conn Iggulden read English at London University and worked as a teacher for seven years before becoming a full-time writer. Married with three children, he lives in Hertfordshire. Since publication of 'The Gates of Rome', Conn has written a further thirteen books including the wildly successful 'The Dangerous Book for Boys'.
Hal Iggulden is the artistic director of the Holdfast Theatre Company in Leicester, England.