Geekspeak: A Guide to Answering the Unanswerable, Making Sense of the Nonsensical, and Solving the Unsolvable (Paperback)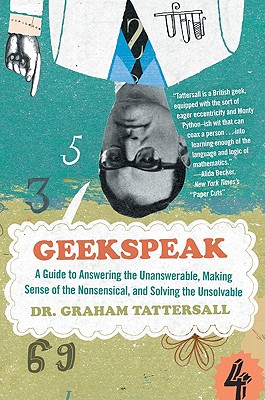 List Price: $13.99
Our Price: $6.98
(Save: $7.01 50%)
On Our Shelves Now. Click on the title to see details.
Description
---
Geekspeak is Dr. Graham Tattersall's quirky love letter to math, logic, and problem solving… and to the self-professed geeks everywhere who revel in such esoterica. Written for the numero-phobic and the calcu-lover alike, Geekspeak doesn't shy away from complex problems, but always explains them in a way that's elegantly curious, easily understood, and, above all, endlessly entertaining.
About the Author
---
Dr. Graham Tattersall is a freelance engineer working on projects as diverse as computer-aided shoe fitting, fault analysis systems for trains, and enhancement of ultrasound images. He lives in Suffolk, England.
Praise For…
---
"Tattersall's welcoming attitude, solid principles and intriguing examples should stick with the logically or mathematically inclined."
— Publishers Weekly