1492: The Year the World Began (Paperback)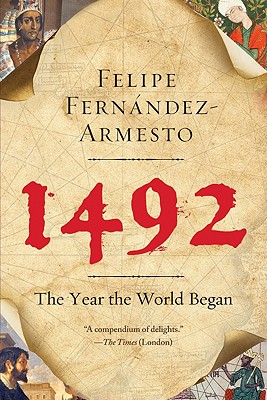 Description
---
1492: Not Simply the YearColumbus Sailed the Ocean Blue . . .
In this extraordinary, sweeping history,Felipe Fernández-Armesto traces key elements of the modern worldback to that single fateful year when everything changed.
About the Author
---
Felipe Fernández-Armesto is currently the William P. Reynolds Professor of History at Notre Dame University, and is on the editorial board of the Journal of Global History. Fernández-Armesto is also a member of the history faculty at Queen Mary College, University of London. The author, coauthor, or editor of more than twenty-five books, Fernández-Armesto's work has been translated into twenty-two languages. His books include Before Columbus; The Times Illustrated History of Europe; Columbus; Millennium: A History of the Last Thousand Years (the subject of a ten-part series on CNN); Civilizations: Culture, Ambition, and the Transformation of Nature; Near a Thousand Tables; The Americas; Ideas That Changed the World; Humankind: A Brief History; The Times Atlas of World Exploration; Reformations; Truth; and The Times Guide to the Peoples of Europe.
Praise For…
---
"In this admirable history, Fernández-Armesto has written a book of travels not unlike those of Marco Polo, filled with marvels and sensations, rich in description and replete with anecdote. 1492 is a compendium of delights." — The Times (London)
In his stimulating new book, Fernandez-Armesto offers a model of how to write popular history: accessible, provocative and full of telling detail. (4 stars) — Mail on Sunday (London)
"Fernandez-Armesto's narrative fluidity, not to mention an ability to turn a phrase, converts facts into context in an attractively readable manner.... Surveying the planet entire in 1492, Fernández-Armesto brilliantly sweeps a startling breadth of history into his unified narrative." — Booklist
"Fernández-Armesto challenges some long-standing historical thinking…. The compiled information adds immensely to the understanding of world that ended and began in 1492…. 1492 changes our view of history." — San Antonio Express-News