Pop: The Genius of Andy Warhol (Paperback)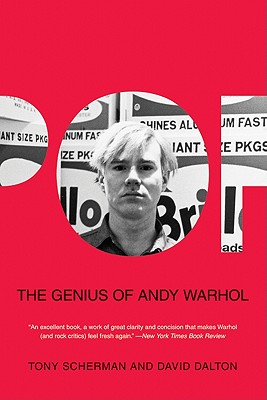 $17.99
Usually Ships in 1-5 Days
Description
---
Pop: The Genius of Andy Warhol is a groundbreaking reassessment of the most influential and controversial American artist of the second half of the 20th century. Writers Tony Scherman and David Dalton disentangle the myths of the great pop artist from the man he truly was, and offer a vivid, entertaining, and provocative look at Warhol's personal and artistic evolution. Drawing on brand new sources—including extensive new interviews and insight from those who knew him best—Pop offers the most dynamic, comprehensive portrait ever written of the man who changed the way we see the world.
About the Author
---
Tony Scherman is the author of Backbeat: Earl Palmer's Story, which won a 2000 ASCAP Deems Taylor Award for excellence in music writing. He was an editor at Musician and Audio and a contributing editor at Life; he has written about art, music, American history, and American culture for dozens of publications, including the New York Times Magazine, the New York Times Arts and Leisure section, Atlantic Monthly, Rolling Stone, Smithsonian, American Heritage, New York, Entertainment Weekly, and People. He was awarded a National Endowment for the Humanities Fellowship in 1997. A magazine article he wrote that year about the poet-activist-professor Melvin Tolson was the basis for the 2007 Denzel Washington film The Great Debaters. He has two daughters and lives in Rockland County, New York.
David Dalton, a founding contributor of Rolling Stone, is the author of some fifteen books, including James Dean: The Mutant King, El Sid: St. Vicious, Piece of My Heart, Mindfuckers, Painting Below Zero, Faithfull with Marianne, Been Here and Gone, and Bob's Brain: Decoding Dylan, which will be published in late 2011.
Praise For…
---
"[A] fascinating study of Warhol's rise from commercial artist to the most celebrated painter and filmmaker in 1960s America."
— Richard Dorment, New York Review of Books

"[Draws] for the first time on full use of the archives of the Andy Warhol Museum in Pittsburgh. . . . [A] crazy, amazing, compelling story. This book does it justice."
— Maria Puente, USA Today

"An excellent book, a work of great clarity and concision that makes Warhol (and rock critics) feel fresh again."
— Deborah Solomon, New York Times Book Review

"Illuminating."
— Jackie Wullschlager, Financial Times

"Riveting.... Exhaustively researched, seductively written."
— Michael Slenske, InterviewMagazine.com

"Mr. 15 minutes of fame gets 441 well-researched pages."
— People

"Scherman, a music writer, and Dalton, an art writer who briefly worked as an assistant to Warhol, entertainingly trace the artist rise from sickly, poor art student to a wealthy, prize winning Manhattan advertising designer to the most unlikely avant-garde painter of all time."
— Fred Kaplan, Washington Post

"If you want to know how Andrew Warhola became Andy Warhol, read this book."
— Barbara Rose, Author of American Art Since 1900

"Andy was fascinated with the speed and acceleration of life. This book beautifully conveys the sixties and his inner world. This is as close as you are going to get to the enigmatic Andy that I knew and liked."
— James Rosenquist

"A sharp-eyed chronicle of those unsettled days in the early sixties when everything was up for grabs. . . . Pulling back the curtain, this fascinating book takes the true measure of Andy Warhol, the pale, enigmatic Wizard of Odd."
— Fred Goodman, author of The Mansion on the Hill: Dylan, Young, Geffen, Springsteen and the Head-on Collision of Rock and Commerce

"Scholarly, impeccably researched and well written, POP immerses us in the fast-moving, dissolute life of Andy Warhol. . . . No one could, or can, be indifferent to Warhol. This book gives us a deeply insightful portrait of the tormented man behind the myth."
— Antony Penrose, director of the Lee Miller Archive and the Penrose Collection

"No stone is left unturned in this insightful, entertaining biography, which also offers a fascinating account of the crazy visionary sixties decade. A must-read, POP is a fun trip into the complex world of the madman plastic inevitable genius that was Andy Warhol."
— Robert Heide, playwright

"What a feast of deep and penetrating investigation! Out of this wealth of fascinating detail-thousands of stories, observations, conversations-Tony Scherman and David Dalton have beautifully mapped out the making of the remarkable life and art of one of the greatest rebel heroes and innovative liberators in art history."
— Tony Shafrazi

"A comprehensive reappraisal. . . . Both an indelible portrait of the artist as a weird young man and an elegant survey of one of the most vital and revolutionary periods in American popular culture-a richly detailed, kaleidoscopic treat."
— Kirkus Reviews (starred review)