Modoc: The True Story of the Greatest Elephant That Ever Lived (Paperback)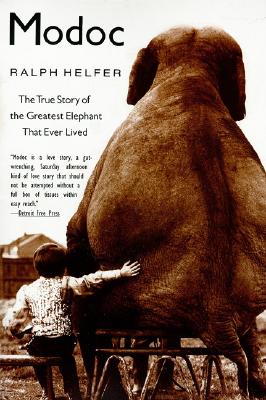 List Price: $15.99
Our Price: $8.00
(Save: $7.99 50%)
On Our Shelves Now. Click on the title to see details.
Description
---
"Once I started this incomparable story, I couldn't put it down, and I cannot get it out of my mind—nor will I ever. The message of what can be accomplished by training through affection and joy will thrill all animal lovers." —Betty White
A captivating true story of loyalty, friendship, and high adventure that spans several decades and three continents, Modoc is one of the most remarkable true stories ever told, perfect for fans of The Zookeeper's Wife or Water for Elephants.
Raised together in a small German circus town, a boy and an elephant formed a bond that would last their entire lives, and would be tested time and again: through a near-fatal shipwreck in the Indian Ocean, an apprenticeship with the legendary Mahout elephant trainers in the Indian teak forests, and their eventual rise to circus stardom in 1940s New York City. As the African Sun-Times put it, Modoc is "heartwarming. . . probably the greatest love story ever told."
About the Author
---
Ralph Helfer is a well-known Hollywood animal trainer who was one of the first to use affection and kindness to train wild animals. He is the author of The Beauty of the Beasts, and he lives in Los Angeles and Kenya, where he leads safari tours.
Praise For…
---
"Heartwarming, captivating...a beautifully true story that will make you think twice about the incredible and very real feelings of elephants, and probably the greatest love story ever told." — African Sun-Times
"Once I started this incomparable story, I couldn't put it down, and I cannot get it out of my mind--nor will I ever. The message of what can be accomplished by training through affection and joy will thrill all animal lovers." — Betty White
"Once in a while, a book comes along to prove that wonderful friendships can occur between the animal kingdom and mankind. Ralph Helfer has done it with Modoc." — San Antonio Express-News
"A captivating tale." — Publishers Weekly
"Heartwarming, captivating...a beautifully written true story that will make you think twice about the incredible and very real feelings of elephants, and probably the greatest love story ever told." — African Sun Times