When Science Meets Religion: Enemies, Strangers, or Partners? (Paperback)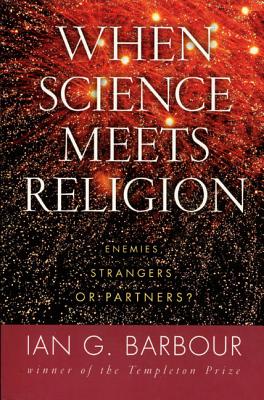 List Price: $16.99
Our Price: $8.50
(Save: $8.49 50%)
On Our Shelves Now. Click on the title to see details.
Description
---
The Definitive Introduction To
The Relationship Between
Religion And Science
∗ In The Beginning: Why Did the Big Bang Occur?
∗ Quantum Physics: A Challenge to Our Assumptions About Reality?
∗ Darwin And Genesis: Is Evolution God′s Way of Creating?
∗ Human Nature: Are We Determined by Our Genes?
∗ God And Nature: Can God Act in a Law-Bound World?
Over the centuries and into the new millennium, scientists, theologians, and the general public have shared many questions about the implications of scientific discoveries for religious faith. Nuclear physicist and theologian Ian Barbour, winner of the 1999 Templeton Prize for Progress in Religion for his pioneering role in advancing the study of religion and science, presents a clear, contemporary introduction to the essential issues, ideas, and solutions in the relationship between religion and science. In simple, straightforward language, Barbour explores the fascinating topics that illuminate the critical encounter of the spiritual and quantitative dimensions of life.
About the Author
---
Ian G. Barbour has retired from Carleton College where he was professor of physics, professor of religion, and Bean Professor of Science, Technology, and Society. The "preeminent synthetic in the field" (Cross Currents,) he is the author of several influential books, including Ethics in an Age of Technology and Myths Models, and Paradigms, which was nominated for the National Book Award. He gave the world-renowned Gifford Lectures, 1989-1991.