The Book of Love and Hate (Paperback)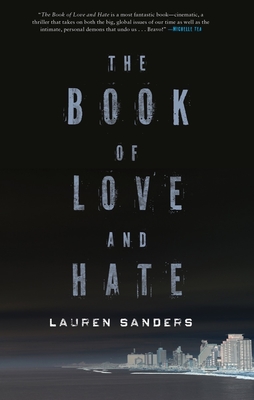 $15.95
Usually Ships in 1-5 Days
Description
---
"Sanders, whose first novel Kamikaze Lust, won a 2000 Lambda Literary Award, offers an international espionage thriller in which a failed Olympic speed skater falls for her father's lover, a former Israeli army pilot turned corporate spy."
--Publishers Weekly
"Jennifer Baron, a failed speed skater, tries to stay sober after her Olympic downfall. She's running her father's business, a billion-dollar foundation, when he mysteriously disappears. Soon she's invited to a conference that turns out to be a covert meeting with her father and a corporate spy."
--Publishers Weekly; included in Fall 2017 Adult Announcements, Literary Fiction
"Sanders knows how to craft a story. The storyline is riveting, and the personal development of the characters kept me engaged on a deeper level than even her thrilling plot could. Her prose is beautiful and brings you to an ending that is sure to have you reeling."
--Windy City Times
"The Book of Love and Hate is a most fantastic book--cinematic, a thriller that takes on both the big, global issues of our time as well as the intimate, personal demons that undo us. A book about obsession, it obsessed me. How incredible to come upon such a brainy, expertly written bona fide page-turner. Bravo "
--Michelle Tea, author of Black Wave
"A richly suspenseful story of addiction, love/lust, and family ties--and how all of those things can hold us captive. A spectacular return from one of my favorite writers."
--
Alison Gaylin,
best-selling author of
What Remains of Me
"The Book of Love and Hate
is a fever dream of a novel, achingly sexy and at times startlingly funny. Lauren Sanders has written a stunning genre-defying tale of sex, longing, ghosts, and spies. Every page teems with her gleaming sentences and deliciously dark wit. The ending still haunts me."
--
J.T. Rogers,
author of
Oslo
Jennifer Baron is a failed Olympic speed skater now running her family's foundation and trying to stay sober, when her billionaire father disappears. She travels to Israel in search of him, becoming recklessly entangled in his illegal dealings and with his enigmatic lover, Gila, a former Mossad agent gone bad. Along the way, she is drawn into the shadow worlds of the Promised Land, where career-jockeying government agents, fake Orthodox Jews, queer Palestinians on the run, and other displaced wanderers scramble to find home amid the endless cycles of war, occupation, and heartbreak.
The Book of Love and Hate is an unraveling of white-collar crime and its motivations. It's a testament to the magnificent oblivion of love and a shattering of inherited trauma, both personal and historical.
About the Author
---
Lauren Sanders is the author of two novels--Kamikaze Lust, which won a Lambda Literary Award, and With or Without You. Her writing has appeared in various publications and journals including Bookforum, the American Book Review, and Time Out New York. She is a resident of the great nation of Brooklyn.